ORANGE CREAMSICLE MIMOSAS
Take your favorite breakfast cocktail to the next level with these delicious Orange Creamsicle Mimosas! They combine the fun of childhood with the deliciousness of adulthood….all in one glass.
Made with 4 simple ingredients, these mimosas are just the right blend of creamy, sweet, and bubbly. Perfect for weekend brunches, ladies' nights, or lazy days by the pool.
If you love mimosas (and who doesn't!?) you'll love this fun, creamy, YUMMY twist!
Anyone who knows me knows that my favorite meal of the day is brunch. Hands down. No contest. I love a good brunch.
And not just because I have a thing for Overnight Sausage Egg Casserole or Lemon Raspberry Coffee Cake or Garlic Herb Cheesy Potatoes….but because I have a thing for MIMOSAS.
I love mimosas any way I can get them, from the classic recipe to Tropical Mimosas to Pineapple Upside Down Mimosas. I do NOT discriminate. There's just something about a cocktail that starts with champagne that has me sold. And when I can have it for breakfast? I'm pretty sure there's nothing better.
To be honest, I've never met a person who didn't love mimosas. And really….what's not to love? Orange juice + bubbles + whatever else you might want to mix in? It's a sure win. Every time.
And these Orange Creamsicle Mimosas are even more of a win, because they bring back so many good memories from childhood. Growing up, there was nothing like a Creamsicle on a hot summer day….the best of both worlds, and the tastiest combo ever!
These Orange Creamsicle Mimosas taste just like those treats from childhood, but a lot more fun! They're the perfect combination of orange juice, champagne, vanilla vodka, and a splash of heavy cream. Easy to make by the glass or pitcherful, and almost too easy to enjoy.
WHAT IS AN ORANGE CREAMSICLE?
An Orange Creamsicle is a frozen dessert that was invented by Frank Epperson in 1905. He successfully experimented with enclosing vanilla ice cream with a layer of frozen fruit juice when he was just 11 years old, and he called his invention the "Episicle". It later became known as "popsicle", "creamsicle" and even "dreamsicle".
CREAMSICLE VS. DREAMSICLE
The two names are often used interchangeably. The only difference between the two treats is that a Creamsicle is made with ice cream, while a Dreamsicle is made with ice milk.
HOW DO YOU MAKE AN ORANGE CREAMSICLE MIMOSA?
In a champagne flute, combine 1/4 c. orange juice, 1 oz. vanilla vodka, and 1 Tbsp. heavy cream. Mix.
Slowly add chilled champagne to the top of the glass.
Garnish with an orange wedge.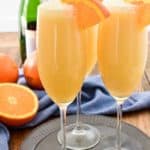 Orange Creamsicle Mimosas
Ingredients
1/4

c.

pulp-free orange juice

1

oz.

vanilla vodka

1

Tbsp.

heavy cream

1/2

c.

champagne
Instructions
In a champagne flute, combine orange juice, vodka, and heavy cream. Mix.




Slowly add champagne to the top of the glass.

Garnish with an orange wedge.
Nutrition Facts
Orange Creamsicle Mimosas
Amount Per Serving
Calories

201
Calories from Fat 45
* Percent Daily Values are based on a 2000 calorie diet.