Blueberry Ginger Sorbet
Bold and refreshing, this blueberry ginger sorbet recipe is sure to be a hit this summer!
Sorbet should taste like freshly picked fruit, and this one surely fits the bill, with an intense blueberry flavor and vibrant purple color. The subtle hint of ginger gives this sorbet a little something extra.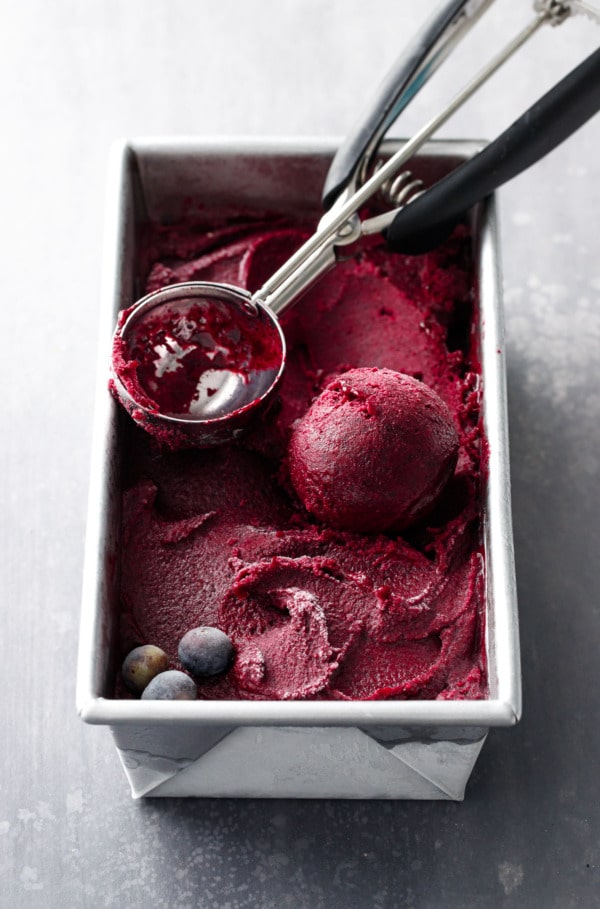 This recipe was inspired by a particularly memorable scoop of sorbet we had in Zagreb, Croatia. The day may have been drizzly and cool, but that didn't stop us from popping in to the adorable little French cafe called Amélie.
I was actually surprised at the overall quality of the ice cream in Croatia, although seeing its proximity to Italy I guess I shouldn't have been.
We ended up back at this same cafe the following day too, just down the hill from the city's iconic cathedral, where we sat down in the outdoor terrace and enjoyed a delicious entremet cake and (obviously) some more ice cream.
This particular sorbet is nothing short of refreshing, with a bright blueberry flavor and a sultry hint of ginger. It'd be a perfect palate cleanser (you know the kind of sorbet they serve between main courses on a cruise ship) or an impressive finale to any meal.
And, I mean, can we talk about that color for a second? It's downright gorgeous. I'd love a ballgown in that color, to be honest (if I had a ball to attend, that is).
Also: I officially submit my petition for renaming them purpleberries instead of blueberries, or, if we're truly being color-wheel purists, they should really be called redvioletberries.