Cabbage & Zucchini Okonomiyaki
A traditional Japanese savory pancake with zucchini and cabbage, topped however you like it!
Somewhere in between a frittata, a potato pancake and a zucchini fritter, these Japanese savory pancakes are a great way to use up whatever leftover vegetables happen to be in your fridge (in our case, cabbage and zucchini). We topped ours with a combination of okonomi sauce, Japanese mayo, crispy bacon, scallions, sesame seeds and bonito flakes.
Okonomiyaki literally means "cooked how you like it" so there's really no wrong way to make one. It's typically cabbage based, with eggs and flour and served with a variety of toppings.
We mixed the cabbage with some shredded zucchini, for a bit more flavor and vegetable goodness. Do note that this recipe calls for Savoy cabbage, the ruffly leaves of which are thinner and more delicate than your standard green cabbage. Napa cabbage would be a good alternative, but regular green cabbage should be your last resort.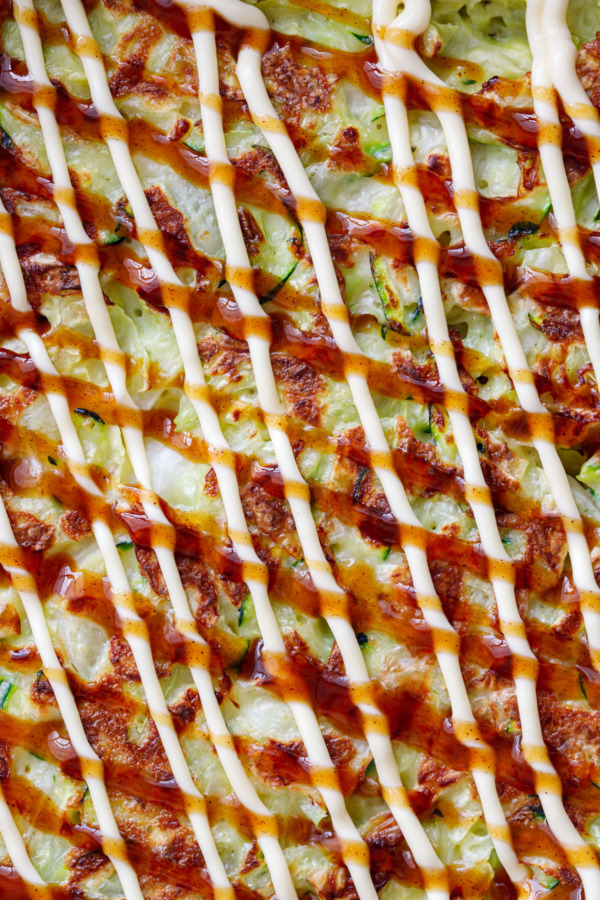 We cooked our pancakes in a 9-inch cast iron skillet, one pancake a satisfying dinner for two, but you could also make smaller pancakes using a flat griddle or other large nonstick pan too. We prefer our pancakes on the thinner side, so this recipe will give you two 1/2-inch pancakes. You could also make one extra thick pancake if you prefer. If you do this, after browning both sides I'd recommend finishing the pancake in the oven to ensure the inside is fully cooked through.