OAT & SEED CRACKERS.
Dare I say these seed crackers are the only crackers you'll ever need? I dare. They're packed with delicious texture from oats, pumpkin seeds, poppy seeds, flax, and chia, and bursting with flavor from caraway, fennel, salt, and a touch of maple syrup or honey. They're gluten-free, vegan, one thousand percent customizable, and play just as well with a cheeseboard as they do with a stacked avo, tomato, and sprout sandwich.
Earlier this month, I decided it was high time I figured out how to make my own crackers. After the most recent spate of bleak news for climate change and the future of human life, I'm more motivated than ever to minimize consumption and waste. I tried out a new waste-free laundry detergent option in the form of soap nuts, I'm looking into using a rye berry solution to wash my hair, and now I can forever say goodbye to bulky cracker packaging.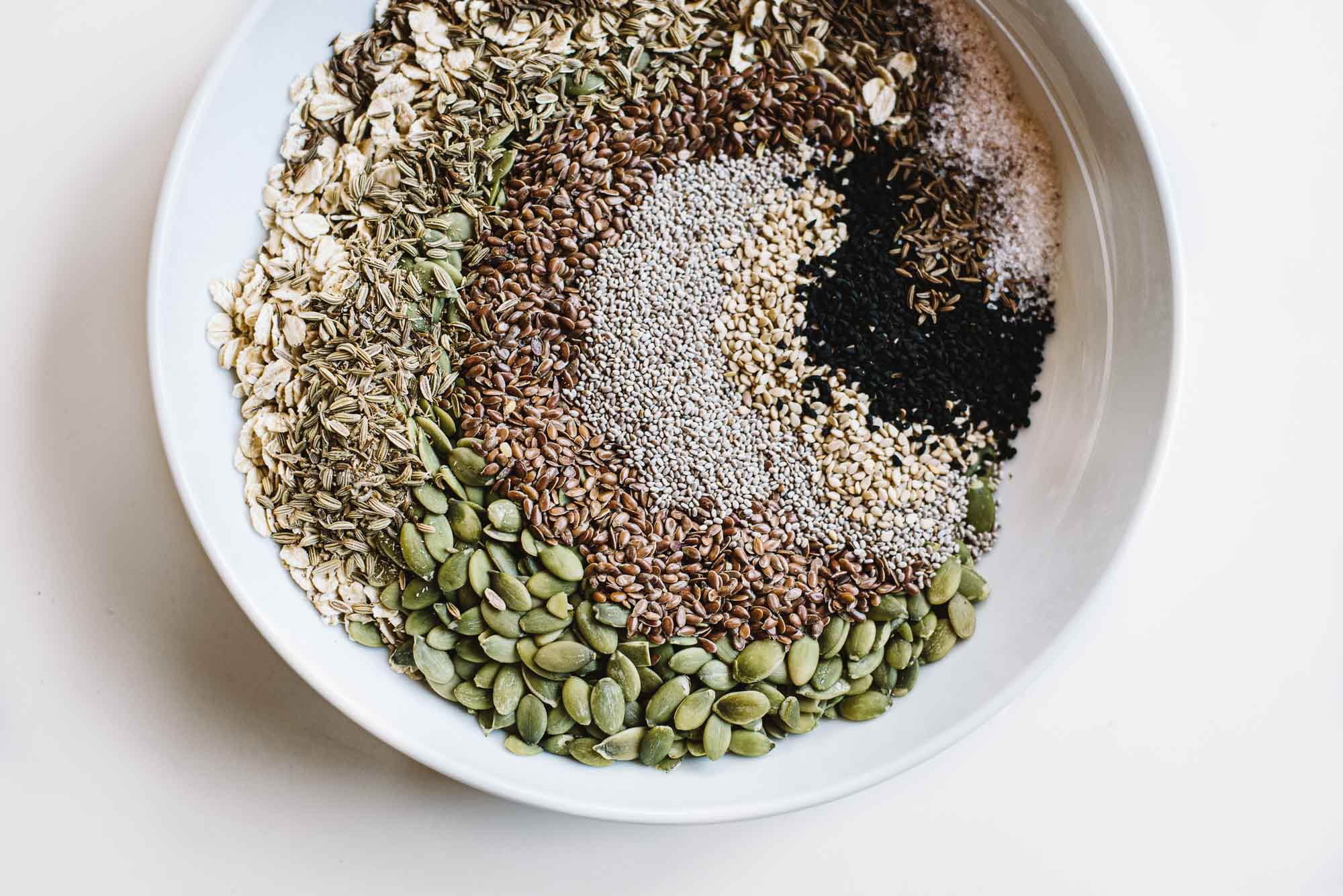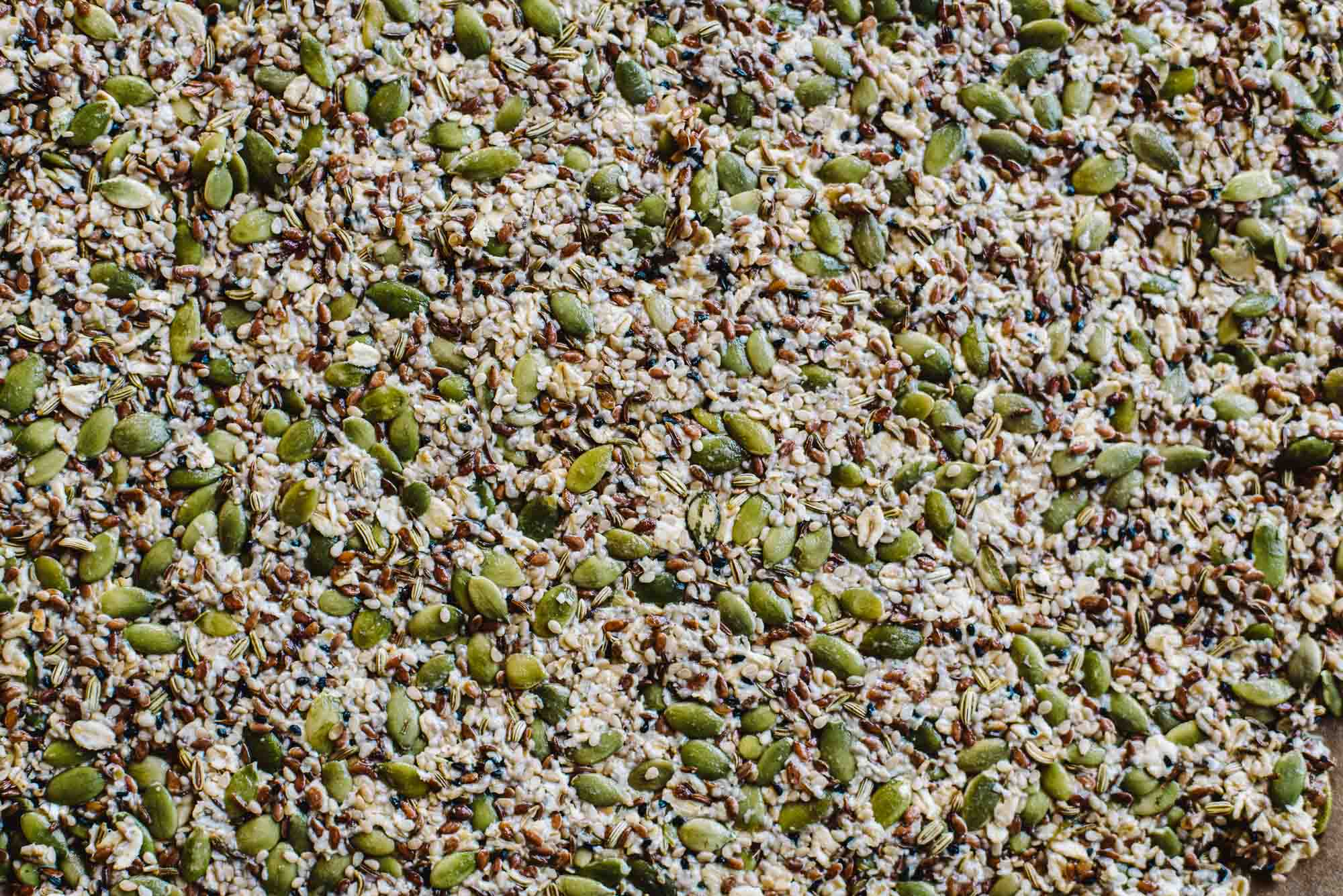 I adapted these from Bon Appetit's recipe for Seedy Oat Crackers, because I thought they could use a hit of flax and a touch more flavor. Enter fennel and caraway seeds, and some nigella seeds, in place of poppy. You can really mix and match here, playing with seeds and flavors of choice. The only seeds that must stay in the mix are chia and flax. It's a super easy, flexible recipe that you can rely on for excellent crunch and hearty taste.
These crackers saw me through the rough news from Australia, when a study conducted by a former fossil fuel executive found that human life may not be sustainable past 2050 if we don't radically change our habits. And they accompanied me on Juneteenth, when National Book Award-winning writer Ta-Nehisi Coates offered potent congressional testimony on Rep. Sheila Jackson Lee's (D-Texas) proposal to authorize a national apology and study reparations for slavery and racism against black people in the U.S. On the same day, our country named an absolutely extraordinary new U.S. Poet Laureate—Joy Harjo, who also happens to be the first Native American to hold the position.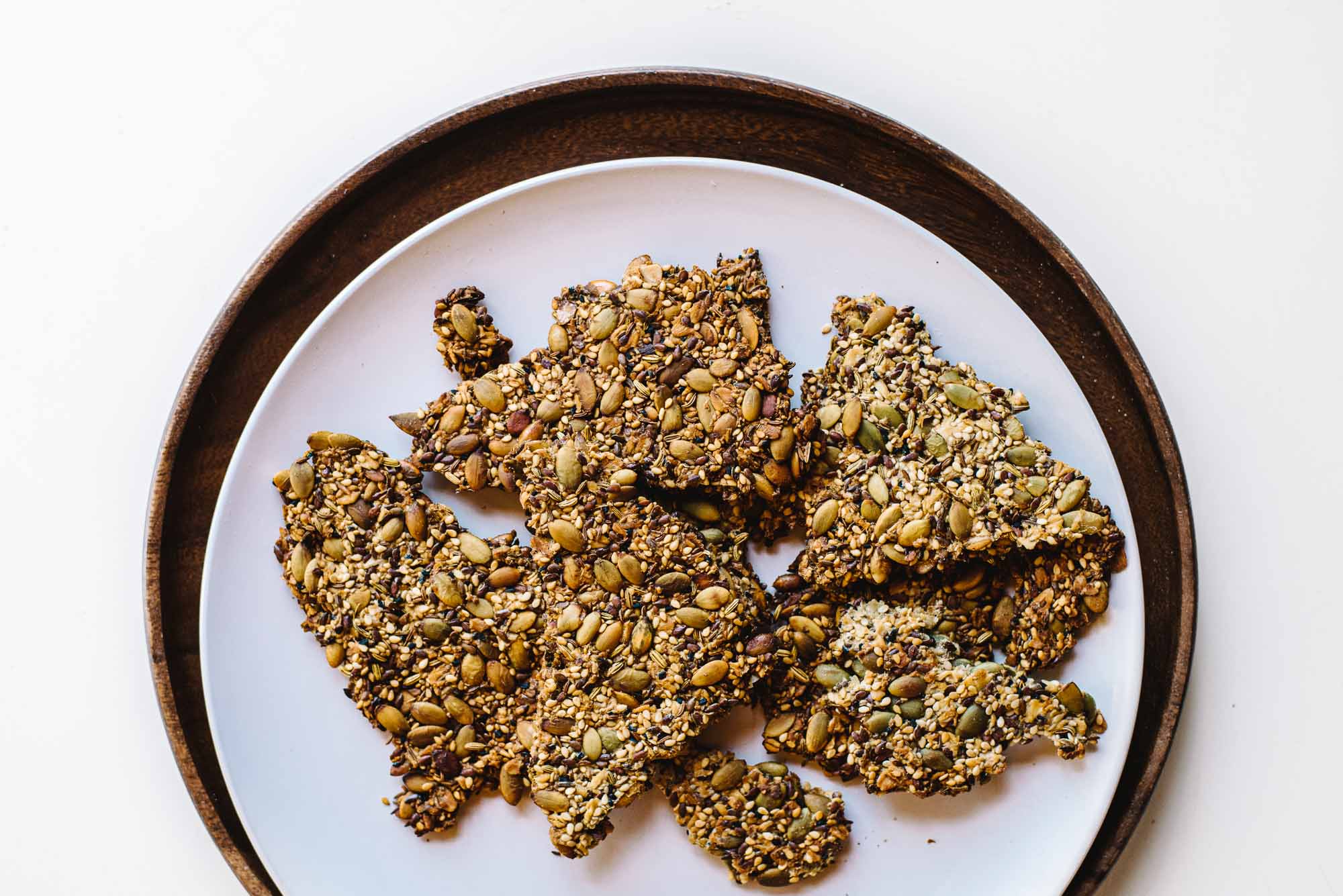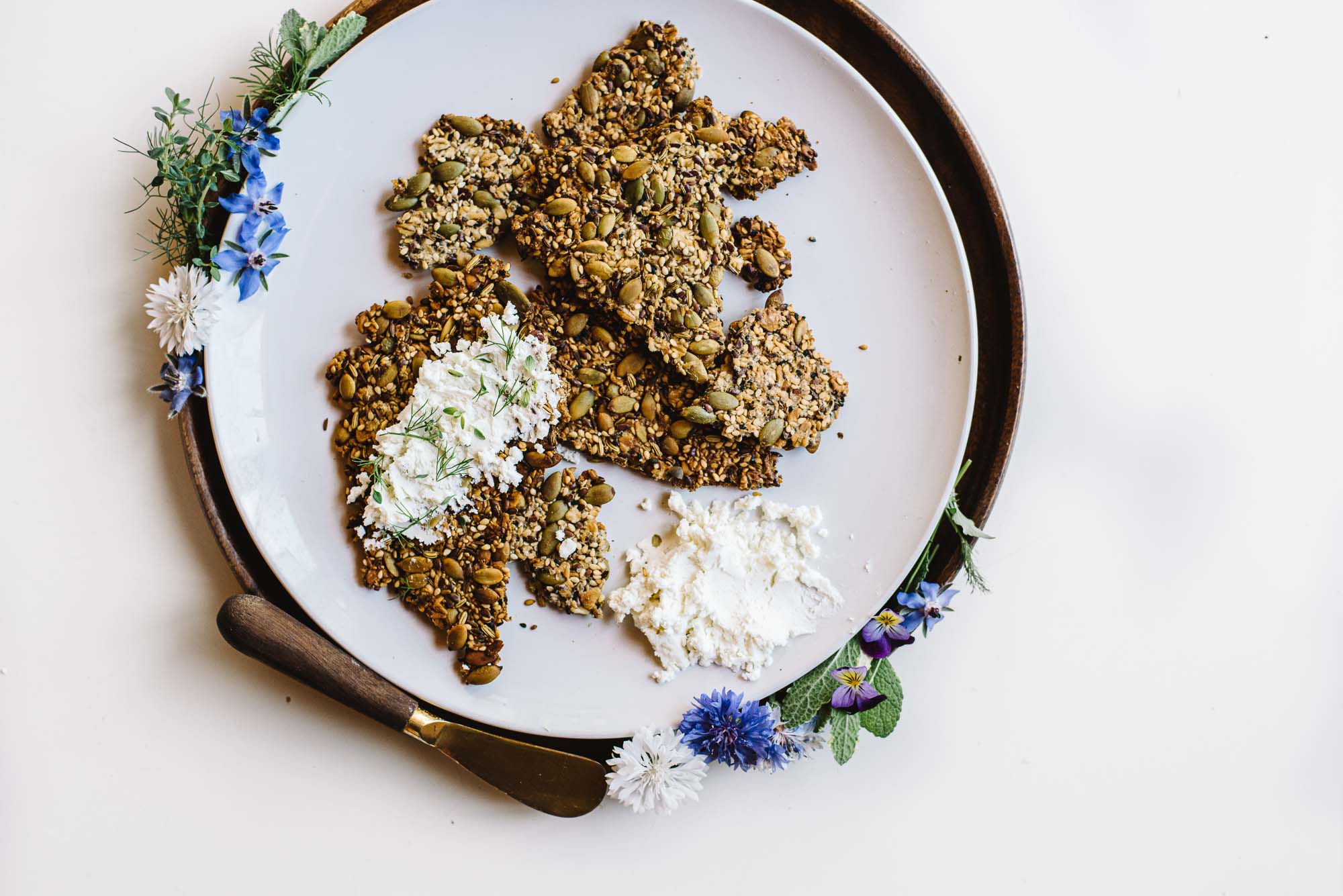 A friend introduced me to Harjo's poetry earlier this year with the haunting poem below. Her words changed my breathing, stopped my mind, calmed my heart. I am so grateful for her work.
Read below. Enjoy. Make crackers. Tread lightly.
For Calling the Spirit Back from Wandering the Earth in Its Human Feet
Joy Harjo
Put down that bag of potato chips, that white bread, that bottle of pop.
Turn off that cellphone, computer, and remote control.
Open the door, then close it behind you.
Take a breath offered by friendly winds. They travel the earth gathering essences of plants to clean.
Give it back with gratitude.
If you sing it will give your spirit lift to fly to the stars' ears and back.
Acknowledge this earth who has cared for you since you were a dream planting itself precisely within your parents' desire.
Let your moccasin feet take you to the encampment of the guardians who have known you before time, who will be there after time. They sit before the fire that has been there without time.
Let the earth stabilize your postcolonial insecure jitters.
Be respectful of the small insects, birds and animal people who accompany you.
Ask their forgiveness for the harm we humans have brought down upon them.
Don't worry.
The heart knows the way though there may be high-rises, interstates, checkpoints, armed soldiers, massacres, wars, and those who will despise you because they despise themselves.
The journey might take you a few hours, a day, a year, a few years, a hundred, a thousand or even more.
Watch your mind. Without training it might run away and leave your heart for the immense human feast set by the thieves of time.
Do not hold regrets.
When you find your way to the circle, to the fire kept burning by the keepers of your soul, you will be welcomed.
You must clean yourself with cedar, sage, or other healing plant.
Cut the ties you have to failure and shame.
Let go the pain you are holding in your mind, your shoulders, your heart, all the way to your feet. Let go the pain of your ancestors to make way for those who are heading in our direction.
Ask for forgiveness.
Call upon the help of those who love you. These helpers take many forms: animal, element, bird, angel, saint, stone, or ancestor.
Call your spirit back. It may be caught in corners and creases of shame, judgment, and human abuse.
You must call in a way that your spirit will want to return.
Speak to it as you would to a beloved child.
Welcome your spirit back from its wandering. It may return in pieces, in tatters. Gather them together. They will be happy to be found after being lost for so long.
Your spirit will need to sleep awhile after it is bathed and given clean clothes.
Now you can have a party. Invite everyone you know who loves and supports you. Keep room for those who have no place else to go.
Make a giveaway, and remember, keep the speeches short.
Then, you must do this: help the next person find their way through the dark.
from Conflict Resolution for Holy Beings by Joy Harjo, copyright © 2015 by Joy Harjo
Oat & Seed Crackers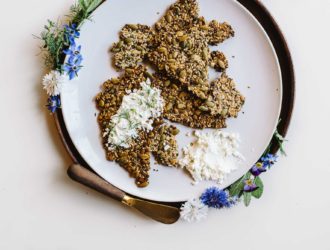 Deliciously seedy vegan, gluten-free crackers made with a wild arrary of seeds, oats, and caraway and fennel for exceptional flavor.
1 cup rolled oats
3/4 cup raw pumpkin seeds or pepitas
1/3 cup raw sesame seeds
1/4 cup raw flax seeds
3 tablespoons poppy seeds or nigella seeds
3 tablespoons chia seeds
2 tablespoons fennel seeds
2 tablespoons caraway seeds
1 teaspoon kosher salt
3/4 cup water
1 tablespoon + 1 teaspoon olive oil
1 tablespoon pure maple syrup
Preheat the oven to 325º. Line a large baking sheet with parchment paper. Cut a second piece of equally sized parchment paper, and set aside for later use.

In a large bowl, mix oats, pumpkin seeds, sesame seeds, flax seeds, chia seeds, poppy seeds, fennel seeds, caraway seeds, and salt.

In a smaller bowl, whisk together water, olive oil, and maple syrup. Pour the wet mixture over the seed mixture and stir until incorporated. Let this mixture sit for 10 minutes—it will thicken as it absorbs liquid.

After 10 minutes, bring the mixture together into a ball and transfer to the parchment-lined baking sheet. Use damp hands or the bottom of a flat measuring cup to spread the mixture out to ⅛-inch thick.

Bake until golden brown around the edges, 30-35 minutes. Then remove from the oven.

Place the second sheet of parchment paper on a clean, flat surface, and carefully turn the cracker over onto the clean parchment paper, so that the baked side of the cracker is now facing up. If it's still on, remove the top sheet of parchment from the cracker, and transfer the new parchment paper + cracker onto the baking sheet. Bake until firm and golden brown around edges, another 15–20 minutes.

Remove from the oven and allow the cracker to cool on the baking sheet, then break it into pieces of your desired size. Store in an airtight container. Will keep up to a week in a cool, dry place.
The post OAT & SEED CRACKERS. appeared first on Kale & Caramel.